Why Should I Use the Google Keyword Planner?
You can find keywords for your search campaigns with the use of Google's keyword planner. Using this free tool, you may find new keywords associated with your company, get an idea of the number of searches they receive, and find out how much it will cost to target them.
Step 1: Access Google Keyword Planner
So yeah, using Google Keyword Planner is completely free. But you MUST have a Google Ads account in order to use the Google Keyword Planner. You can quickly create an Adwords account here if you don't already have one: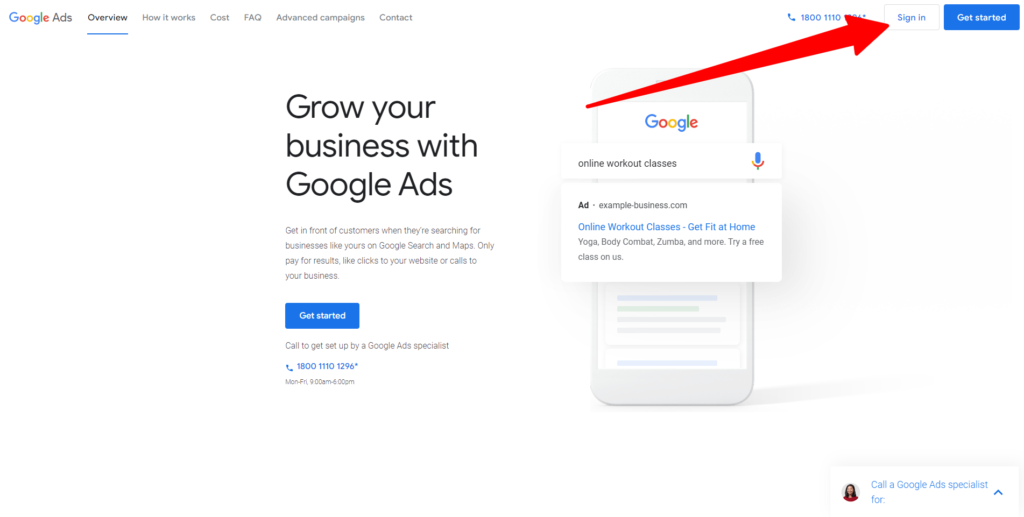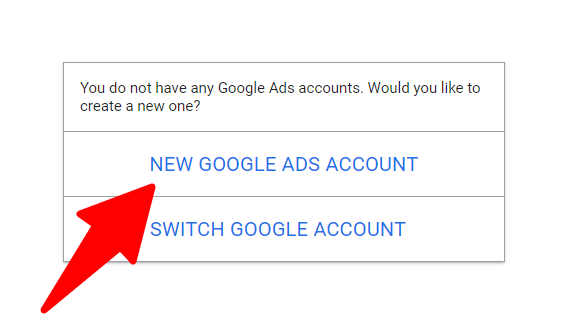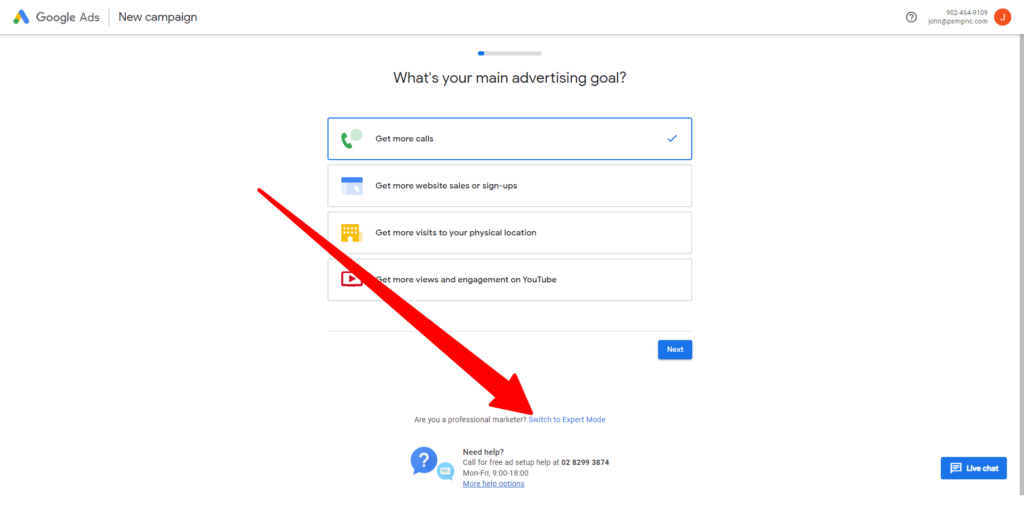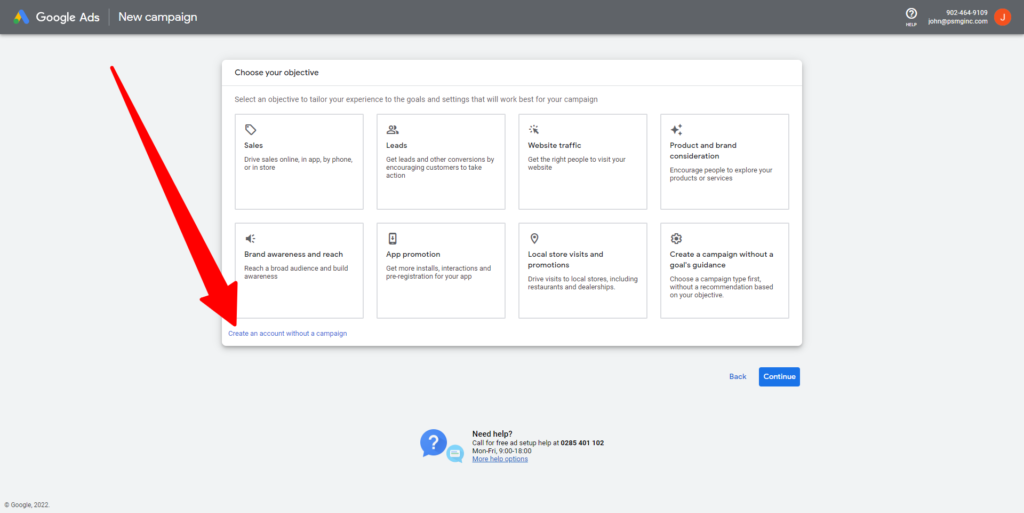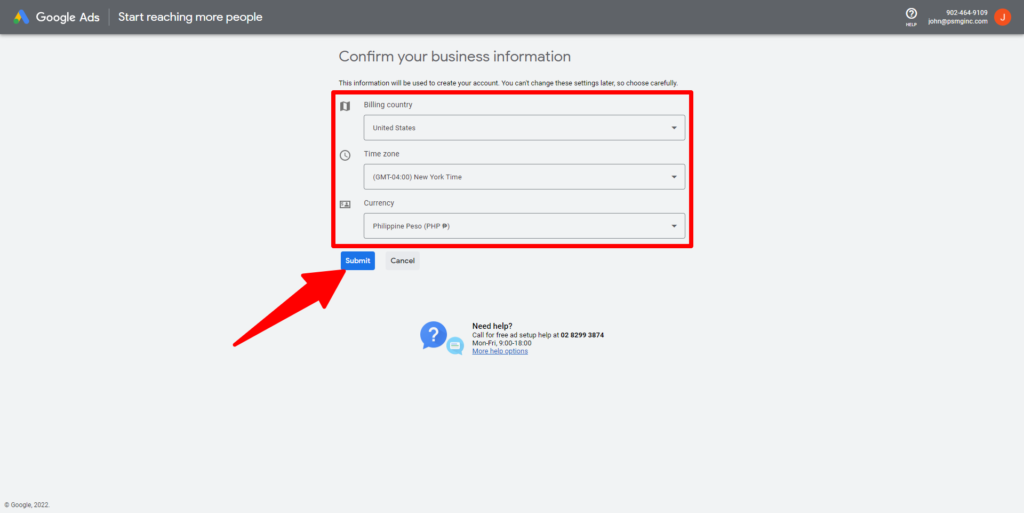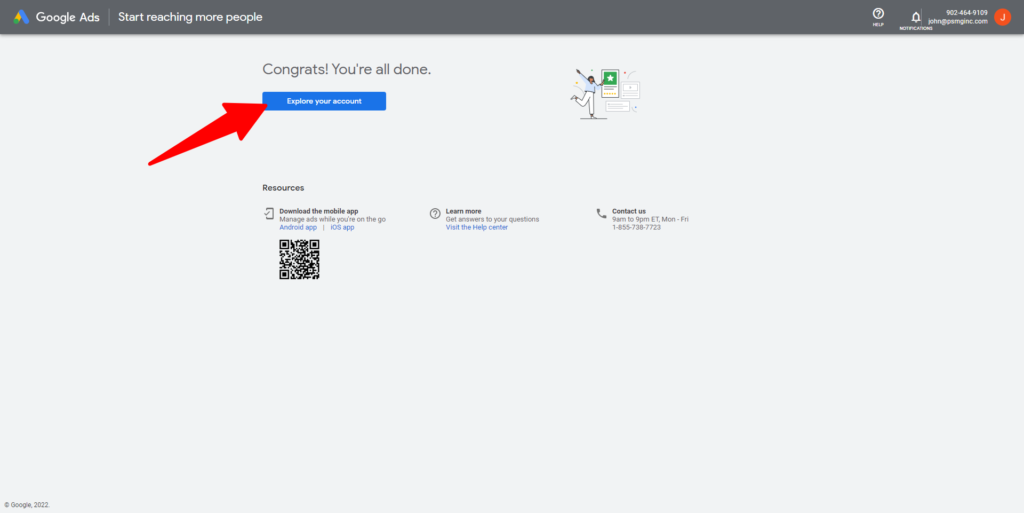 Step 2: Select Your Tool
I'll demonstrate how to use these two tools to assist you in compiling a sizable list of keywords for your SEO campaigns.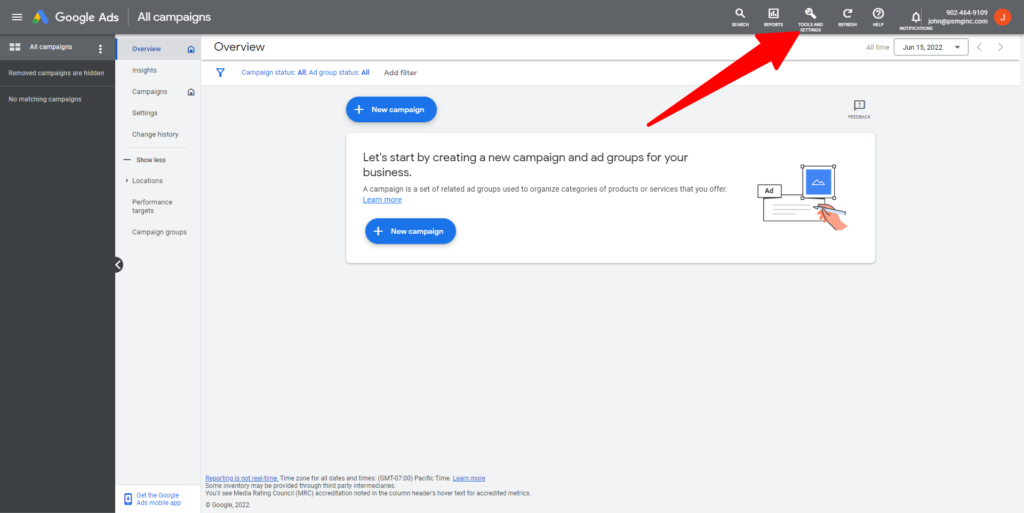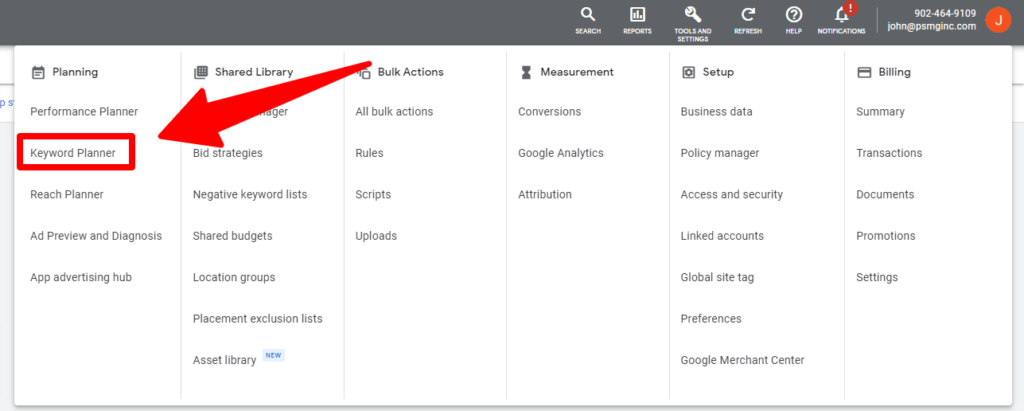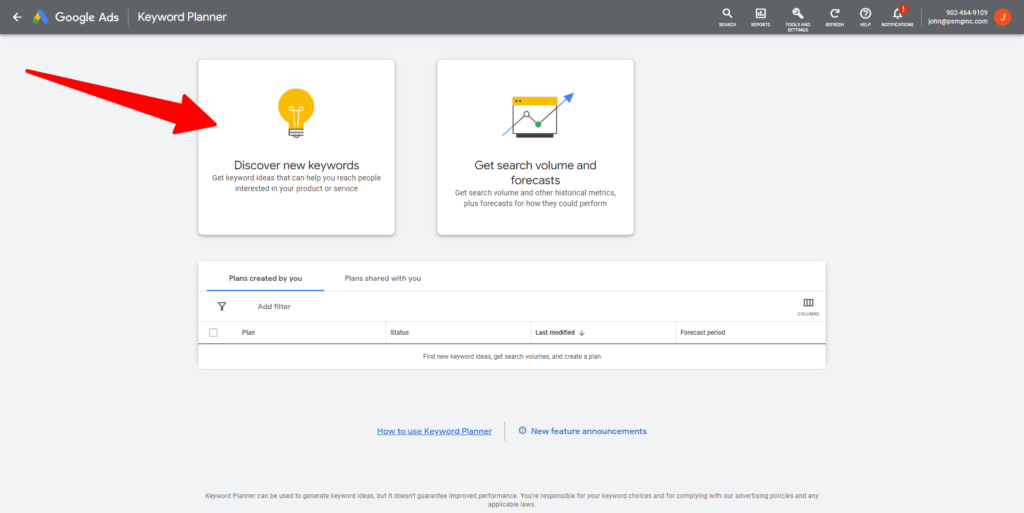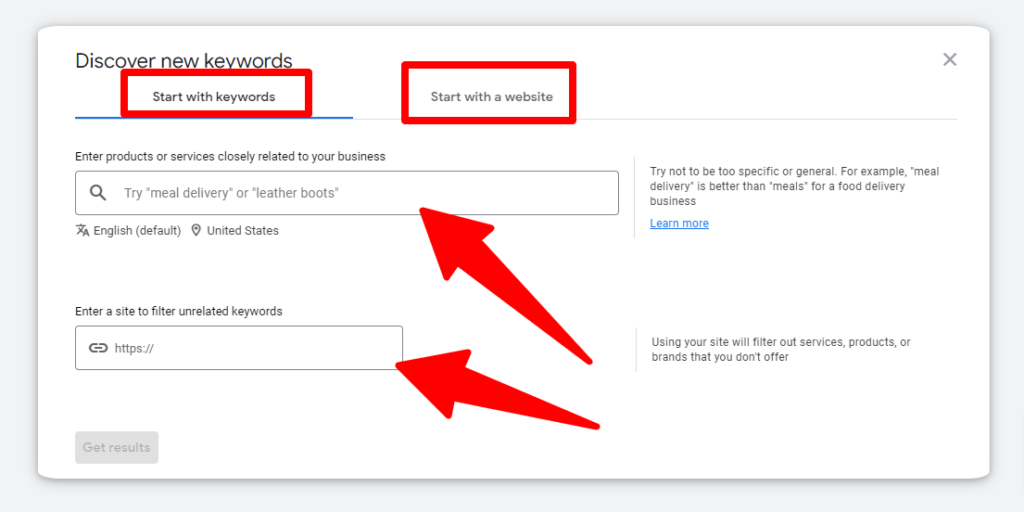 You have two options for finding keywords with Google Keyword Planner:
"Start With Keywords": These terms and expressions (such as "diet and exercise" or "green tea") characterize your company. This gives you access to Google's proprietary keyword database for many business sectors.
"Start With a Website." However, occasionally you can locate a few good keywords here by using the main page of your website… or some content from your site.
Click "Get Results" after entering your data into one (or all three) of the fields.
The Keywords Results Page will appear after that.


Step 3: Sort and Filter
It's time to narrow the list of keywords to the ones that will work best for you.
You may access the "Keywords Results Page" using either of the two tools I just mentioned. It looks like this: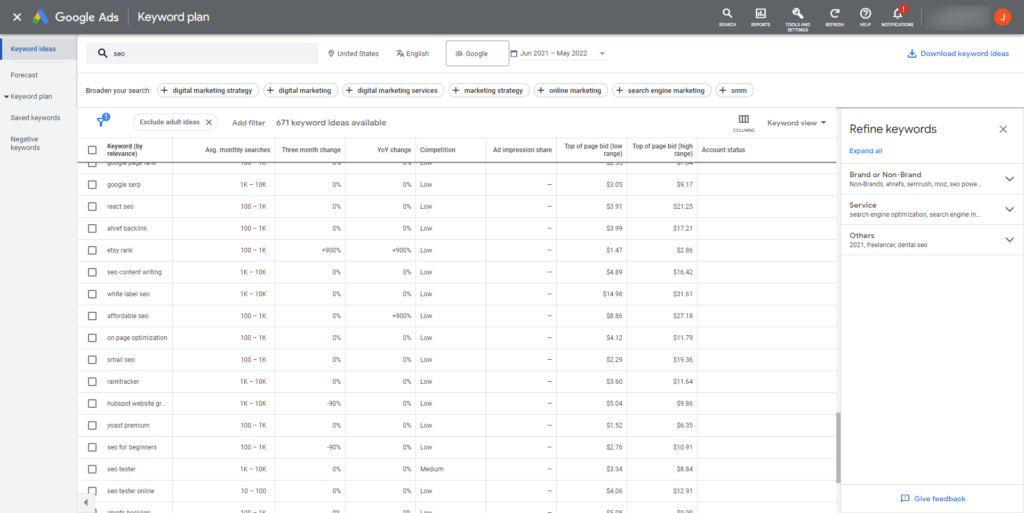 At the top of the page, you'll see four options: Locations, Language, Search Networks, and Date Range.

Those four targeting options are mostly self-explanatory, but here is some additional information:
"Locations" – The countries that you are aiming to target.
"Language" – The language of the keywords you're interested in.
The settings default to target English language speakers in the USA. If that's your target market, no need to make any changes.
However, suppose your target market is Germany. You should select "German" as the language and modify the location to "Germany."
"Search networks"
Determines whether you want to advertise only on Google… or Google and their "search partners." Search partner sites include other search engines and other Google services (like YouTube).
For now, I recommend leaving this set to just "Google".
"Date range"
The default is "12 months" and it is usually fine to leave it unchanged.

Below is a brief summary of the filtering options each of your possibilities for you.
Keyword Text
You can tell the tool to only display keywords that include a specific word or phrase.
Why would you want to include particular keywords?
An example: You launched a new line of red headbands. You would want to make sure that the keyword "red headbands" would appear in every keyword that the Keyword Planner proposes.
Exclude keywords
You will likely want to exclude keywords you are already placing bids on in Adwords.
Exclude Adult Ideas
Self-explanatory…..yeah.
Average Monthly Searches
This is useful for removing keywords with a lot of search activity (after all, these terms are going to be really competitive). Additionally, you might want to exclude keywords with a low search volume.
Competition
The Google Keyword Planner offers the option to only see keywords with "Low," "Medium," or "High" competition. This feature can be confusing. Keep in mind that the Google Keyword Planner was created exclusively for Google Ads, not SEO.
Thus, the "Competition" score in this case ONLY pertains to Adwords competition (not how competitive the keyword will rank for in Google's organic search results). For now, I suggest leaving this blank.
Ad Impression Share
Once more, this adjustment only affects Adwords. So for SEO, we can disregard this filter.
Top of Page Bid
For your ad to show up at the top of the page for that term, you should expect to pay this amount.
(This was once referred to as "Cost Per Click" or "CPC").
Top of Page Bid is an indicator of commercial intent, so you can set this to a certain amount if you only want to target keywords that potential customers search for. There are two choices, "high range" and "low range."

Organic Impression Share
This shows how frequently your site is listed in the organic results for a particular keyword. (Note: You must link your Google Search Console account to your Google Adwords account in order to use this feature.)
Organic Average Position
Where you typically rank in the Google organic results for each keyword. Again, in order for this to work you must be connected to the GSC.
The last component on the Keywords Results Page is the "Broaden Your Search" section.
This new feature broadens your search by providing you with keywords that are slightly relevant to the search phrases you entered.
For instance, the following list of ideas appears when you search for "SEO":

Step 4: Export Keywords and Consolidate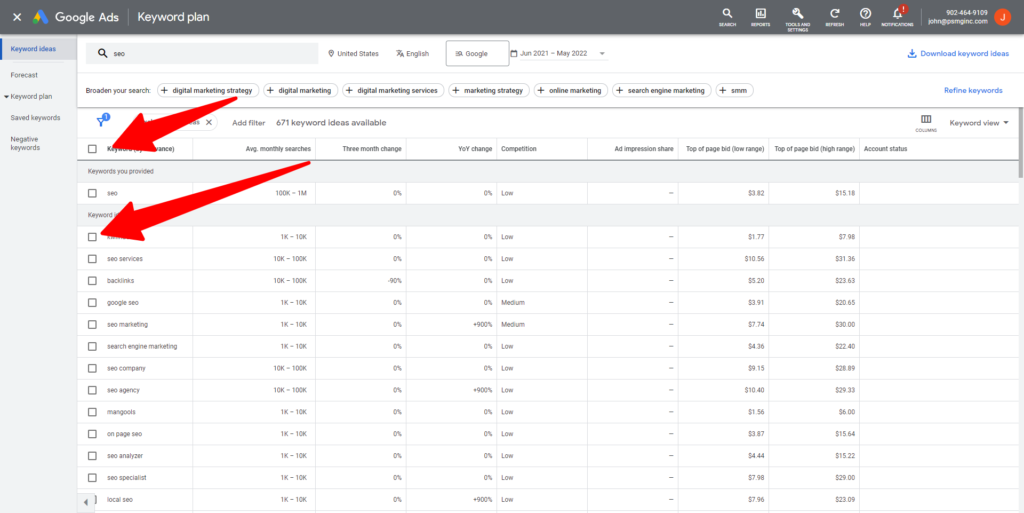 Before exporting, you can either select all keywords or only the keywords you want to export by using the individual boxes beside each keyword.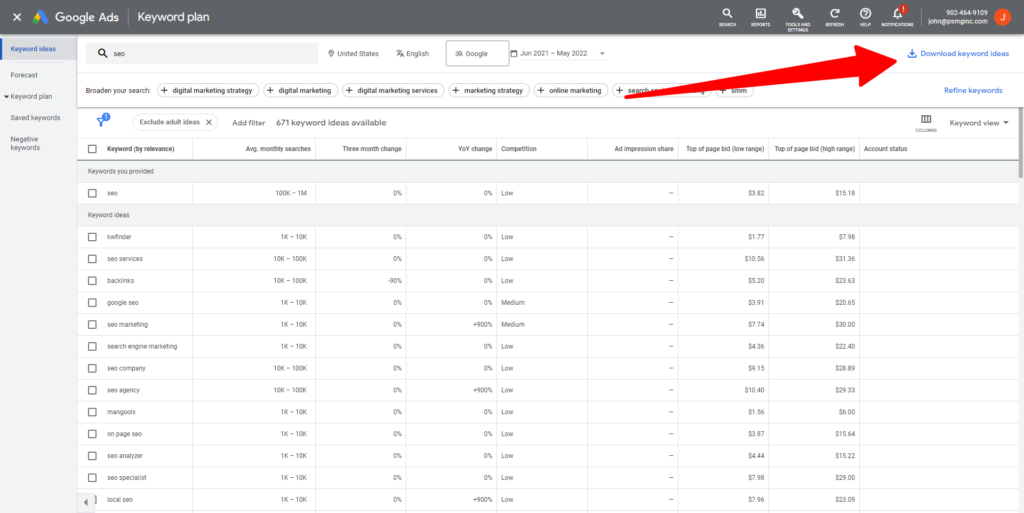 After selecting the keywords you want to export, select "Download Keyword Ideas."
SEO is a process, it's a skill that takes a lot of time and effort, but it is well worth the effort. It's a skill that can be learned and one of those skills is keyword planning with Google's Keyword Planner. Get started today. If you have some questions on what you see here, or you want some help, visit us at www.aardvarkmg.com