So you arrived here because you are thinking about uploading a video to YouTube. First question to ask yourself, should you bother?
A: Heck yeah.
We all know a picture is worth a thousand words, so what is a video worth? Well, it turns out, it's worth a lot.
5 Reasons Why Video Marketing Is Important
1. Demand for Video is Increasing
Over one million minutes of video crosses the internet every second, with mobile video consumption rising by 100% every year and by 2022, online videos are expected to make up more than 80% of all consumer internet traffic. If you're a business, why not provide your messaging in a form the market is demanding?
2. Videos Attract Attention and New Customers
Statistics show that videos are known to hold attention 5 times more than still photos. Over 70% of customers would rather learn about a product or service by way of video and 6 out of 10 people would rather watch online videos than television. If you're a business, why not focus on the most effective way to attract customers to your products?
3. Videos Explain Things Better and Encourage People to Share
Viewers retain over 90% of a message when they watch it in a video, compared to retaining only 10% when reading it in text. By showing users how your product works, they're more likely to have a better understanding of the product or service and will be more inclined to make a purchase. Social media platforms are evolving to focus on video content more than they did before and are more equipped these days to allow users to seamlessly share videos with others. 92% of users watching video on mobile will share it with others. If you're a business, wouldn't it be great to have video content that other people helped push out and expand your reach?
4. Video Builds Trust and Boosts Conversions
An effective video marketing strategy allows you to showcase your products in a more conversational manner, fostering trust with prospective customers. When users have an opportunity to see products being used through videos, there's a higher chance that they will actually buy it. 90% of users claim videos help them when making purchasing decisions. Statistics also show that video keeps users on the pages for a longer period of time and encourages them to look around the website, again increasing the likelihood of a conversion. If you're a business, what value would you put on video content that converted visitors to buyers?
5. Google Prefers Video Content
Since videos encourage users to spend more time on your website, this will show Google (and other search engines), that your website has worthwhile and engaging content. Increasing the video content you offer will almost certainly increase your rankings on search engines. Furthermore, since Google is tied to YouTube, it's also increasingly likely that how users respond to your videos will affect your rankings on Google. You can control your budget and make sure your videos are only shown to specifically targeted audiences. If you're a business, and Google is telling you that adding video content will push you higher in their search results…..well, then you've got to do it.
Now you're convinced to upload a video to YouTube, but what are some video parameters to consider before uploading your video?
Optimizing Your Video Parameters
Similar to the considerations we make when we are optimizing text content, you need to make sure your videos are optimized for SEO as well. Use descriptive and interesting titles and descriptions, with links that lead back to your website or products. The optimal length of the video can vary considerably depending on the social media platform you are using. For YouTube, the optimal lengths for B2B videos are 2 minutes or less, pre-roll video ads 15-20 seconds, and bumper ads which are intended for brand awareness at less than 6 seconds.
Here is some information on audio and video formatting guidelines. https://support.google.com/youtube/answer/4603579?hl=en
Now that you are convinced of the importance of video content and are armed with a little information on recommended parameters and formatting, here are the steps to upload a YouTube video.
Step by Step Guide
Step 1: Go to YouTube and click on the "Create" icon in the upper right hand corner.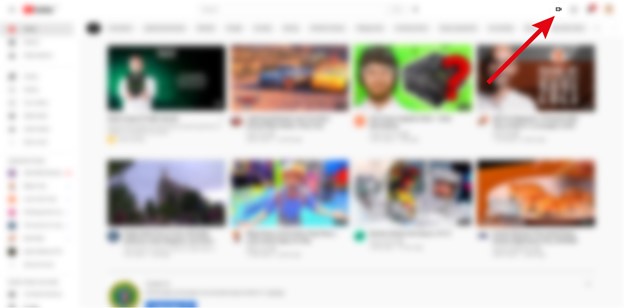 Step 2: If you are not already logged in, you will be prompted to sign in.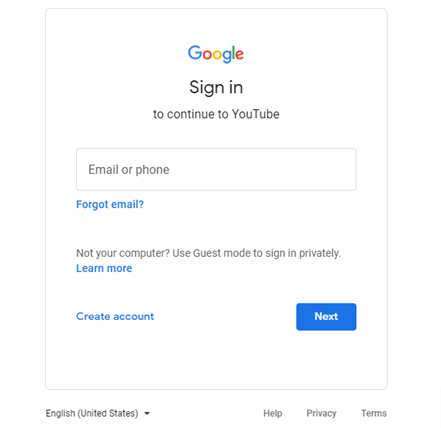 Step 3: After you signed in, click on "Upload video" located at the upper right corner and you will get a dialogue box where you can select or drag and drop your files.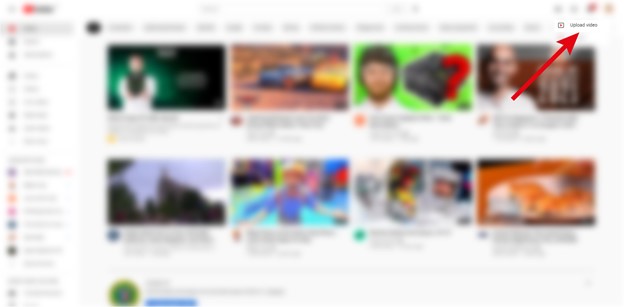 Step 4: Select or drag the video file you wanted to upload from your local files.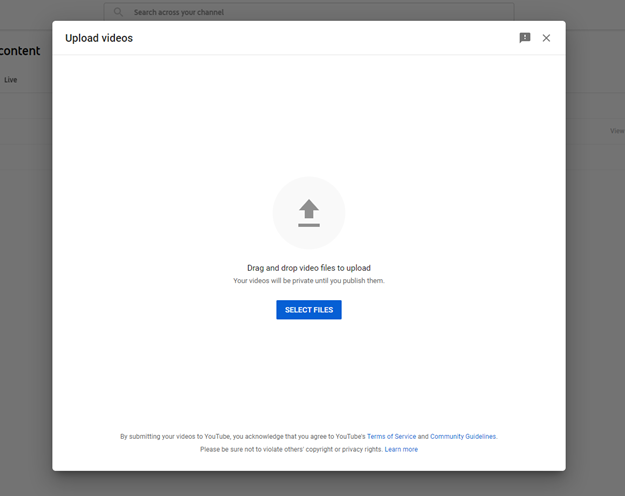 Step 5: Fill in the following information in the Details section: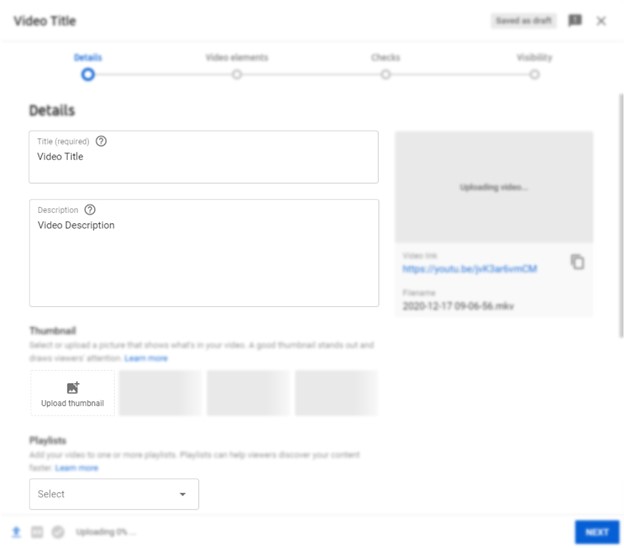 Video Title
Video Description (Optional)
You can upload a thumbnail or select from the list of thumbnails generated by YouTube. At this point in the process, YouTube will start to upload the video, so it may take some time before the thumbnail suggestion will appear.
You can create a new playlist or select from your existing playlist.
Make selections for the Audience section and marking video for kids if needed. Note: this informational message will appear, "Features like personalized ads and notifications won't be available on videos made for kids. Videos that are set as made for kids by you are more likely to be recommended alongside other kids' videos."

If you set the video as NOT made for kids you will have an additional option to make it only available for viewers over 18 years old.

Thumbnail preview
Short link to the video once it's published.
Go to the next page.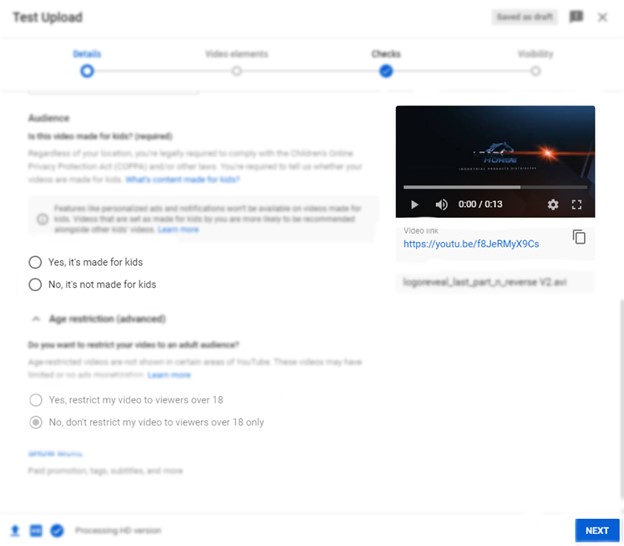 Step 6: You don't have to worry about this Video Elements section in the initial upload. A future blog post will provide an additional guide covering this topic.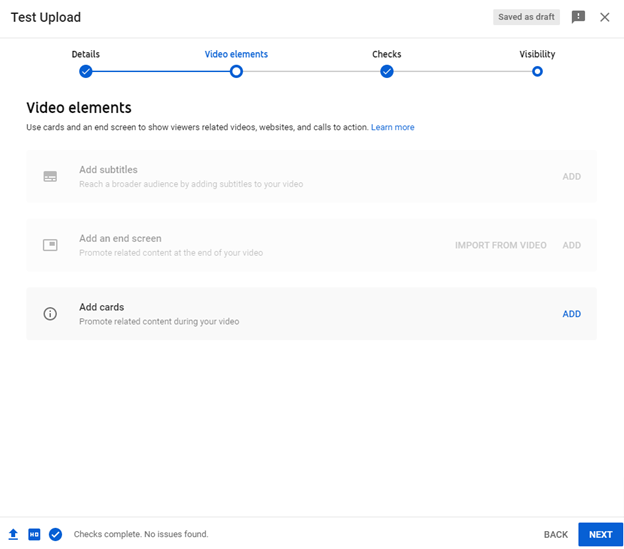 Step 7: The Checks section will let you know if YouTube found something that will prevent your video from being published (such as video or audio copywriting).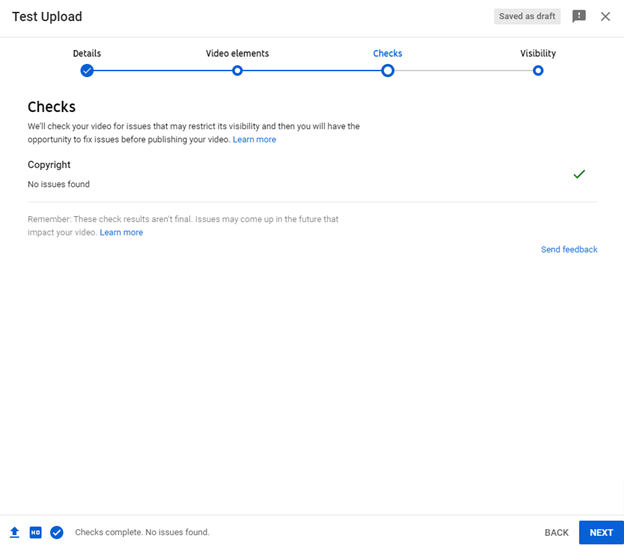 Step 7: Select Video Publish status and Schedule in the Visibility Section.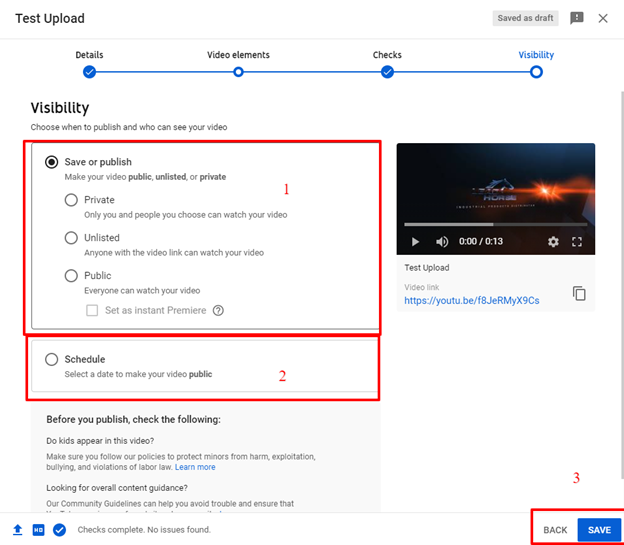 Public means everyone can see it and it can be searched in YouTube.
Private means only you (owner of the video) can see it.

If you set the video to private you will then have the additional option to privately share it via email (in order to view the video, those viewers are then required to sign in using THAT email address).

Unlisted means everyone who has the link to the video can watch it. If you try to search for it in the YouTube, you won't find it.
You can also schedule the publication of the video.
Click "Save".
Step 8: After you save it, you will then be directed to YouTube Studio where you can find all your videos. You're finished.
Final Thoughts
Video is here to stay and the sheer volume of video content online is growing exponentially. Your business is going to need to create video content and promote engagement using video going forward. Make your videos informative and entertaining so the viewer stays engaged and will want to share your video with others. You can increase the chances that your video will be well received by adhering to recommended audio and video guidelines and optimizing your video for SEO. If you have any questions regarding video creation and how it can help your business or something specific to this blog post, please reach out to us at Aardvark Marketing Group via our contact page.
If you're looking for marketing services that will get you noticed, visit www.aardvarkmg.com. Whether you're an established business looking to refresh your brand or just starting out, Aardvark Marketing Group has a plan or service that can create, grow, or help manage your business.